Trans-Desolation Tour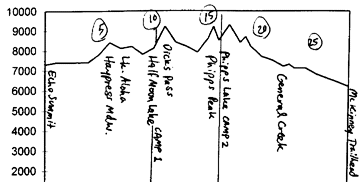 Mostly intermediate touring terrain with one fairly steep pass (30 degrees)

28 miles in 3 days

Cumulative gain, loss: +5100', -6200'

Avg. Relief: 400'/mile

Topos: Tahoe, Fallen Leaf Lake (15'); Homewood, Rockbound Valley, Pyramid Pk., Echo Lake (7.5')

Lake Aloha on a cold, windy day
This is a nice early-Spring tour, starting at the Echo Lake SnoPark (turn north off Hwy. 50 about a mile west of Echo Summit; a SnoPark permit is required; 916-653-8569). There is another SnoPark site at Echo Summit, where the following tour begins. Connecting the mile between these two tours is an exercise left to the reader.

Head north to Echo Lake, then ski westward across Lower and Upper Echo Lakes, and continue northwest to Lake Aloha. Then drop northeast down to Heather and Susie Lakes, and turn northward upcanyon to the general area of Half Moon Lake. Find a site away from avalanche slopes (Camp 1).

Things get interesting first thing the next morning with the ascent and descent of Dicks Pass. For less steepness, stay towards the east on both the approach to and the descent from Dicks Pass. To complete a fine 2-day tour, you could descend north from Dicks Lake, then descend east to Azure Lake (actually, it's best to stay high NE of Azure Lake), and continue to drop towards Cascade Lake, exiting with a steep traverse north of Cascade Lake that takes you to the "Inspiration Point" Emerald Bay overlook.
Early morning light on Pyramid Peak and Lake Aloha; note the slide path diagonal across the face.
But since the program here is to connect up with the previous tour, we'll continue north along Dicks and Fontanillis Lakes, and on to Upper and Middle Velma Lakes. From here, our group followed an 8000' contour around the west side of Phipps Peak, and northward to the headwaters of General Creek. However, I think it would be more interesting to ascend Phipps Peak, drop northward to Phipps Lake (Camp 2), continue north and northwest along the ridge and unnamed peaks for a few miles, and then drop into the General Creek drainage.

Two miles later, near Richardson Lake (and the Sierra Club Ludlow backcountry hut), General Creek turns eastward. You can ski out to Lake Tahoe via General Creek, but the easier route is to continue north for one more mile to Miller Lake. From there, ski out along the popular McKinney Creek ski route to the McKinney/Rubicon trailhead near Lake Tahoe, about a mile or two south of Homewood.

Some logistical notes: There is no parking at the McKinney Creek trailhead; your best bet is probably to park 2 miles south at Sugar Pine Point State Park ($5/day). Also, there is a SnoPark several miles to the north at Idlewild. All of this area is served by TART's hourly daytime bus service, though TART won't take you all the way to South Tahoe. Highway 89, your best shuttle route between the southern and northern trailheads, is often closed during winter months due to snow, so consider doing this tour in late winter or early spring when that road is open. Average elevation of the tour is almost 8000', so the snow should be fine into March (past mid-March, you will lose snowcover during the tour's final miles, however). The tour should be best south-to-north as described, since that direction has about 1000' less uphill.


An account of our 3/97 Trans-Desolation trip, with photos.

An account of our 2/02 trip to the same general area, with photos.






General info and disclaimer about backcountry skiing