Onion to Southfork
Advanced mountain terrain including several steep passes (up to 35-40 degrees or so)

40 miles in 5 to 7 days

Cumulative gain, loss: +10400', -11800'

Avg. Relief: 600'/mile

Topos: Big Pine, Mt. Pinchot (15'); Split Mtn., Mt. Pinchot, Mt. Clarence King, Kearsarge Pk. (7.5')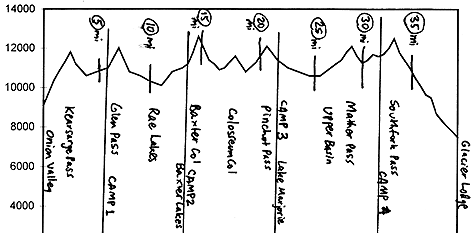 Mather Pass (on the right) viewed from Palisade Lakes
This tour goes through a beautiful section of the John Muir Trail area of the southern Sierra. The tour features a reasonably high average elevation of 10500'; it should work well until around mid-Spring or so. Parking is available at both trailheads. The northern Glacier Lodge trailhead tends to be open by early Spring; the Onion Valley trailhead opens later in the Spring, but even before it officially opens, you can usually drive and park a few miles above the official closure. The tour may be done in either direction; I'm describing it south to north to take advantage of the higher trailhead at Onion Valley.

This tour starts with a choice; there are three options for getting from Onion Valley to Rae Lakes:
You can take the relatively long standard hiking route, over Kearsarge Pass, down to Bullfrog Lake, and around and over Glen Pass (this is the route I've tried).
Moynier's book suggests a more direct route, ascending almost to Kearsarge Pass, then climbing most of the way up Mt. Gould, traversing across the top of its southern slope, and dropping down the north side of the steep col about 1/2 mile west of Gould's summit.
Another option of similar character is to ascend northwest to the 11400' lake just east of Dragon Peak, and pop over the steep pass between Dragon and Gould.
Marty Cochran (hard to see in the lower left) crests Glen Pass
I'd put Camp 1 somewhere between Bullfrog Lake and Glen Pass (first route option), or at one of the lakes before doing the steep pass (other route options).

From the Raes, follow the John Muir Trail route to Pinchot Pass, taking Camp 2 along the way and Camp 3 around Pinchot. A possible alternative route, instead of the section just south of Pinchot Pass, would be to take White Fork canyon to a pass north of Crater Mtn.

Note: The Moynier guide recommends what looks to be a more interesting (though no more direct) route from Rae Lakes to Mt. Pinchot, via two lateral passes, one just west of Mt. Baxter and the other west of Colosseum Mtn. The first (southern) of these two passes, known as Acrodeetes Col, Grasshopper Pass, or Baxter Col, used to be closed to all public travel year-round, to protect the endangered California bighorn sheep, but that is no longer the case (it remains closed from July through December). Acrodeetes Col (or whatever you want to call it) is rather steep on both sides; Colosseum Col is rather mellow. Overall, this route is a good alternative to the JMT route, if you want to stay at higher elevations, and don't mind another steep pass.

Another route option is Baxter Pass, which is a trail route south of and different from Baxter Col; this can be a handy bail-out point if you have nasty weather and a broken ski like we did a few years ago.

From Pinchot Pass, continue northward roughly along the John Muir Trail route (contour a little towards the east above where you'd join the South Fork Kings to preserve some elevation), across Upper Basin, and over Mather Pass. Then, avoiding the temptation to noodle all the way down to Palisade Lakes, contour at 11300' around to the lakes below Southfork Pass (Camp 4).

Southfork Pass offers two choices; the better of the two pass options is the slightly higher one to the west, 200' of 45 degree snow on each side. On the north side of Southfork, contour northwest over a 12000' notch and descend to Finger Lake. Then proceed north to near Willow Lake and carefully descend the steep trail route well to the east of the creek (if the wet slide hazard is high, another option is to bushwhack along the NW side of the creek below Willow Lake).
Rock shelter near Glen Pass
If you want to put together shorter tours, possible East Side access routes include Taboose Pass, Armstrong Col (attain saddle north of Colosseum Mtn., traverse north towards Mt. Perkins, and drop NE into Armstrong Canyon, being careful to not drop into Division Canyon instead), Sawmill Pass, and the already mentioned Baxter Pass; keep in mind that all of these have low-elevation trailheads. Or, for a longer trip, you may be tempted to bypass this tour's Southfork Pass/ Big Pine Creek trailhead, and continue north via the West Palisades route; this adds only about a day to the length of your tour.







General info and disclaimer about backcountry skiing