Yosemite Trans-Sierra
Moderate mountain terrain and easy road touring

36 miles in 4 to 7 days

Cumulative gain, loss: +6800', -3400'

Avg. Relief: 300'/mile

Topos: Hetch Hetchy, Tuolumne Mdws., Mono Craters (15'); Yosemite Falls, Tenaya Lk., Falls Ridge, Tioga Pass, Mt. Dana 7.5')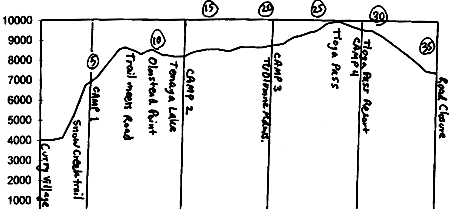 OK, if I had it to do over again, I would have done this east-to-west instead of west-to-east, due to the fact that the east trailhead is 3400' higher than the west trailhead. But since I skied it the harder way (my first ski tour of this length, in late March 1981), that's how I'll describe it.
Half Dome from Snow Creek trail
The west trailhead of this tour is at Mirror Lake (Mirror Meadow?) in Yosemite Valley. For any trans-Sierra ski tour, you should look into car shuttle alternatives, such as bus service. But if you do drive, you will probably need to park in Curry Village, using a special "backcountry user" parking tag obtained from the Visitors Center. (Some skiers use Crane Flat, the western winter closure of Tioga Road, as the western trailhead for this tour; this option is attractive to some since it follows a highway, but it adds many miles--of relatively uninteresting terrain--to the tour.)

Hike out of Yosemite Valley via the Snow Creek trail, on Yosemite Valley's north wall, east of Basket Dome. Camp 1 is at the top of the trail where it starts to level out. Hopefully you have snow on the ground by now.

From the top of the Snow Creek trail climb, head north, then northeast, traversing the rounded ridge that lies 1 to 2 miles north of Mt. Watkins. You should reach Tioga Road about a half-mile to the west of the topo map boundary. From here, there are two options:
Follow Tioga Road generally eastward to Tenaya Lake via Olmstead Point, or
Go to where Snow Creek intersects Tioga Road, and head north 2 miles to Snow Flat, then turning southeast to Tenaya Lake.
Norman Herterich approaches Tenaya Lake from near Olmstead Point
The latter route is less simple, and may take a bit longer, but it avoids the Olmstead Point area, which is an infamous avalanche hazard zone. Speaking of avalanches, you'll want to be careful not to linger at various locations from Tenaya Lake to past Pywiack Dome. We took Camp 2 in the vicinity of Tenaya Lake.

Follow Tioga Road to Tuolumne Meadows, Camp 3. Just before (west of) where Tioga Road crosses the Tuolumne River, there is a Park Service Ski Hut on the south side of the road. It sleeps about 6, and is available to skiers on a first-come-first-served basis (as far as I know). There's also a working payphone just outside. The wintertime Tuolumne Meadows rangers live nearby (if you plan ahead, you can leave a food stash with them before the winter).

Follow Tioga Road over Tioga Pass, and down the hill to Tioga Lake, Camp 4. Civilization intrudes yet again, here, at Tioga Pass Resort (TPR). Note that late-season (typically in April, about a month or so before the road is opened through the park), Tioga Road is cleared of snow and open to cars on the east side as far as Tioga Lake.

Assuming that the road is still closed down at 7400', and assuming that you aren't enjoying a hot shower at TPR, you have a long easy ski (and then hike) to the road closure west of Lee Vining (parking is available).

This tour is often done mid-winter, though it should still be in fine shape in the tamer climes of early spring. With an average elevation of just over 8000' the snowcover can get thin in places by mid-spring. However, once the eastern part of Tioga Road opens in April, you might consider a shorter ski trip into Tuolumne meadows, starting and ending just east of the pass.







General info and disclaimer about backcountry skiing